If you are new to juicing or a full day cleanse feels a little too intense, the micro cleanse could be for you!
The micro cleanse offers 3x 500ml organic cold pressed juices per day and can be consumed in place of 2 meals or alongside a lighter breakfast and lunch. Bursting with nutrition, this cleanse is often used as an insurance policy to provide additional vitamins, minerals and live enzymes that might not always be present in your usual meal choices. Included in a 1 day micro cleanse is our 60ml Ginger shot – a guaranteed afternoon pick me up or great way to get the day going.
Typically includes (per day):  525kcal per day
Ginger shot
Thrive: Pineapple, Apple, Carrot, Ginger, Turmeric, Lucuma & Lemon
Energise: Apple, Cucumber, Kale, Spinach, Coriander, Lime
Glow: Beetroot, Carrot, Cucumber & Lemon

Feel free to exchange the ginger shot and specify the juices you would like - simply add in your notes during checkout, or swap out the cold pressed juices for one of our plant based smoothies.

Regular price
Sale price
£32.00 GBP
Unit price
per
Sale
Sold out
DPD Delivery charge: £6.95. Morning DPD Delivery: £12.50 or Free AM DPD Delivery for orders over £85.
Fresh as can be: All Juices are made to order the day before delivery. Nationwide delivery available on Tuesdays, Wednesdays & Fridays. Delivery date options & calendar available and displayed on checkout.
View full details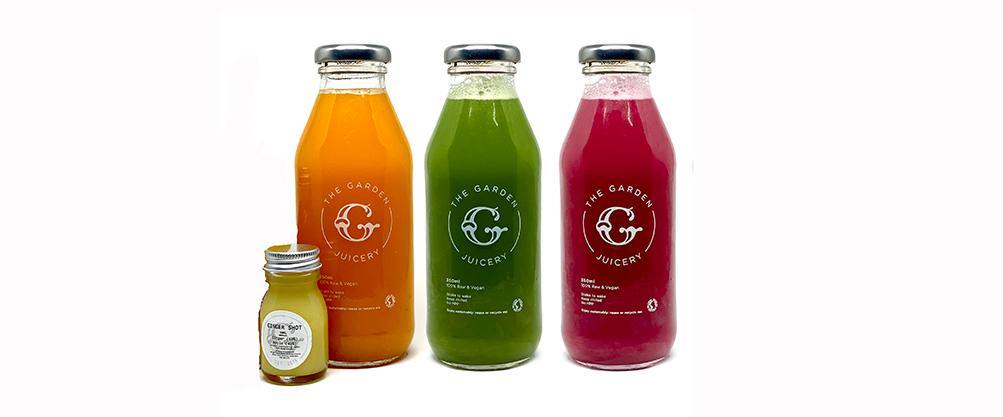 Collapsible content
Nutritional Information

Garden Micro Cleanse: 525kcal per day

Ginger Shot: 60% Ginger!! and 40% Apple.
Nutrition: Per 100ml: energy 115kj/28kcal

Thrive (Orange): Pineapple
– Apple – Carrot – Ginger – Turmeric – Lucuma
Nutrition: Per 100ml: energy 175kj/42kcal

Energise (Green): Apple
– Cucumber – Kale – Spinach – Parsley – Coriander
Nutrition: Per 100ml: energy 128kj/32kcal

Glow (Red): Beetroot – Carrot – Cucumber – Lemon
Nutrition: Per 100ml: energy 116kj/27kcal

Health Benefits

Nutrient-rich, vegetable-based juices offer a fast track to health from the inside out. A quick boost of nutirents and vitamins. A gentle introduction to cleansing with a wide variety of flavours & nutrients. To be consumed with healthy meal(s) and/or soups.

Why Cleanse? A juice cleanse can be a useful way of kickstarting a healthy eating plan. By eliminating processed and inflammatory foods (think meat, dairy and refined sugar) and toxins such as caffeine and alcohol, and instead taking in organic, easily-assimilated nutrients, we allow our bodies the time and resources they need to begin the process of renewal.

Benefits: Rest and repair the gut, Rest the liver, Flood your body with nutrients, Improves your skin and cells, Increase your natural energy levels, Jump start your healthy eating plan…… :)
Cleanse Delivery

Nationwide deliveries days via DPD currently:
Tuesday
Wednesday
& Fridays

Delivery date can be selected during checkout.

We are now using DPD to deliver this organic juice cleanse to your door. You don't need to be home to accept delivery as DPD will leave your parcel in a safe place. Parcels are delivered cooled, but as soon as you open your box do pop your juices intothe fridge.

For 3 Day Cleanse please start the cleanse the day you receive them - morning AM delivery via DPD.

Cleanses for delivery outside the local area will be couriered overnight via DPD in a sustainable chilled box which will arrive AM - DPD tracking link to be confirmed the night before.

Free premium AM shipping when you spend £85, otherwise its £6.95 for next day. Tracking information will be sent the evening before delivery.

For cleanses over 3/4 days in length multiple separate deliveries will be recieved throughout the duration of your cleanse. Please ensure your juice cleanse is delivered to a suitable location which enables you to start the cleanse the day of arrival (essential for 3 day or more cleanses). 

If there are any problems with your delivery, please do email so that we can assist. DPD have a great record with food deliveries but issues unfortunately can occur from time to time.
Packaging Instructions

Perishable product: Refrigerate juices at all times + best before 4 day shelf life for all products.

Please unpack and inspect your delivery upon arrival - items will arrive in a chilled box but please refridgerating items ASAP.

Juices delivered via DPD courier are bottled in recycled plastic bottles (RPET) complete with chilled ice packs and wool insulation liners to ensure juices arrive cold and fresh.

Storepick and local delivery available free of charge and bottled in glass bottles.

Enjoy sustainably: reuse and recylce
Top Cleansing Tips

- Shake your juices before drinking.

- While fasting, drink your juices at regular intervals throughout the day. 

- Light exercise, take walks and rest.

- Stay hydrated! Drink at least 2L of water during the cleanse

- Relax and enjoy the break.

Aim to drink a juice every 2 to 3 hours. 5 juices a day might sound like a lot, but if you space your juices out over 12 hours, your body will thank you. Skipping juices will likely leave you feeling hungry and can result in a drop in your blood sugar, which can leave you feeling lethargic and maybe even give you a headache.

We truly hope that everyone will experience an effortless and comfortable cleanse, however we understand that is not always the case. Some supplements you can consider include herbal tea, lemon water or also just adding another juice to the line-up. If you are still having trouble combating the hunger, try having some vegetable broth or apple and cucumber slices. (Call it a little SOS and ensure you listen to your body) The goal is to stay healthy, so always keep that in consideration when supplementing your cleanse.
Speak to us

We are happy to answer any questions so please do get in touch: info@thegardeneatery.co.uk or 0161 941 6702 (Option 2). Good luck and enjoy! :)


Feel free to swap out a juice for a plant based smoothie or activated charcoal lemonade - Simply add some additional notes during checkout.

Please add in any customised product notes (on checkout page) or delivery requests to go with your order on checkout - we are happy to help and deal with personal preferences as well as dietary/allergy requirements.  Very are very flexible and will be as accomodating as can be.
Pre Cleanse

We recommend preparing for the days pre- and post-cleanse. A last supper mentality is only going to make the first day that much harder, so scale back on the caffeine and have a light dinner the day before. In the lead up to your cleanse, try to reduce/remove any stimulants such as sugar, caffeine, alcohol and dairy to make the transition as easy as possible. Try to pick cleanse start date with minimal temptation and lifestyle interference (appreciate this is not always easy).


The Cleanse - Per Day:

Typical juices included in the micro cleanse each day:

1 x 500ml Thrive
1 x 500ml Energise
1 x 500ml Glow
1 x 60ml Ginger Shot (Ginger - Apple)

To be consumed with a healthy meal(s) or soups. . Other customers also bought some of the following to compliment the micro cleanse: I am well tonic, Bliss Balls or Plant Based Smoothie.

Post-cleanse

Reintroduce food and ease back into life. You'll feel lighter and more energised after your full cleanse. Ease yourself back onto solid foods and be mindful of how they make you feel. Mindfully reintroducing food groups is key to maintaining that healthy feeling. We suggest fresh fruit, vegetables and soups on day 1, followed by delicious salads and steamed vegetables for day 2. Supported by Juices & Smoothies if possible.